Promotion of tourism and culture
Kruševac - Weddings like in the Nemanjić dynasty era
Ranking: Champion
Population: 127.429
Number of businesses: 5.529
Development level: II group
Score: 105
Contact: www.krusevac.rs; protokol@krusevac.rs
Extravagant dining room tables, interesting costumes and medieval customs have singled out Kruševac in the category of promoting tourism and culture with the project of mass weddings like in the era of Nemanjić dynasty. The city of Kruševac and its Tourist organization organize many events during June in honor of celebrating the national holiday of Vidovdan, and one of them is the three-day international festival Knight Battle in the Kruševac Fortress. The central event of the festival is the organization of a mass medieval wedding the in Lazarica court church. It was first held in 2016 to revive the medieval epoch. Characteristics of the event include the brides and grooms marrying in clothes that represent the tradition of long gone times, which is also the idea in food preparation for the dining table. The event has helped contribute to a rise in tourist visits by 22% compared to 2016, and a rise in tourist accommodation by 14%. In 2017, 61% more funds were received by Kruševac on account of residential taxes. The event has made Kruševac a second category tourist place.
Video on winning solution broadcast on TV Show Ovo je Srbija, RTS
Article on winning solution published in daily newspaper Politika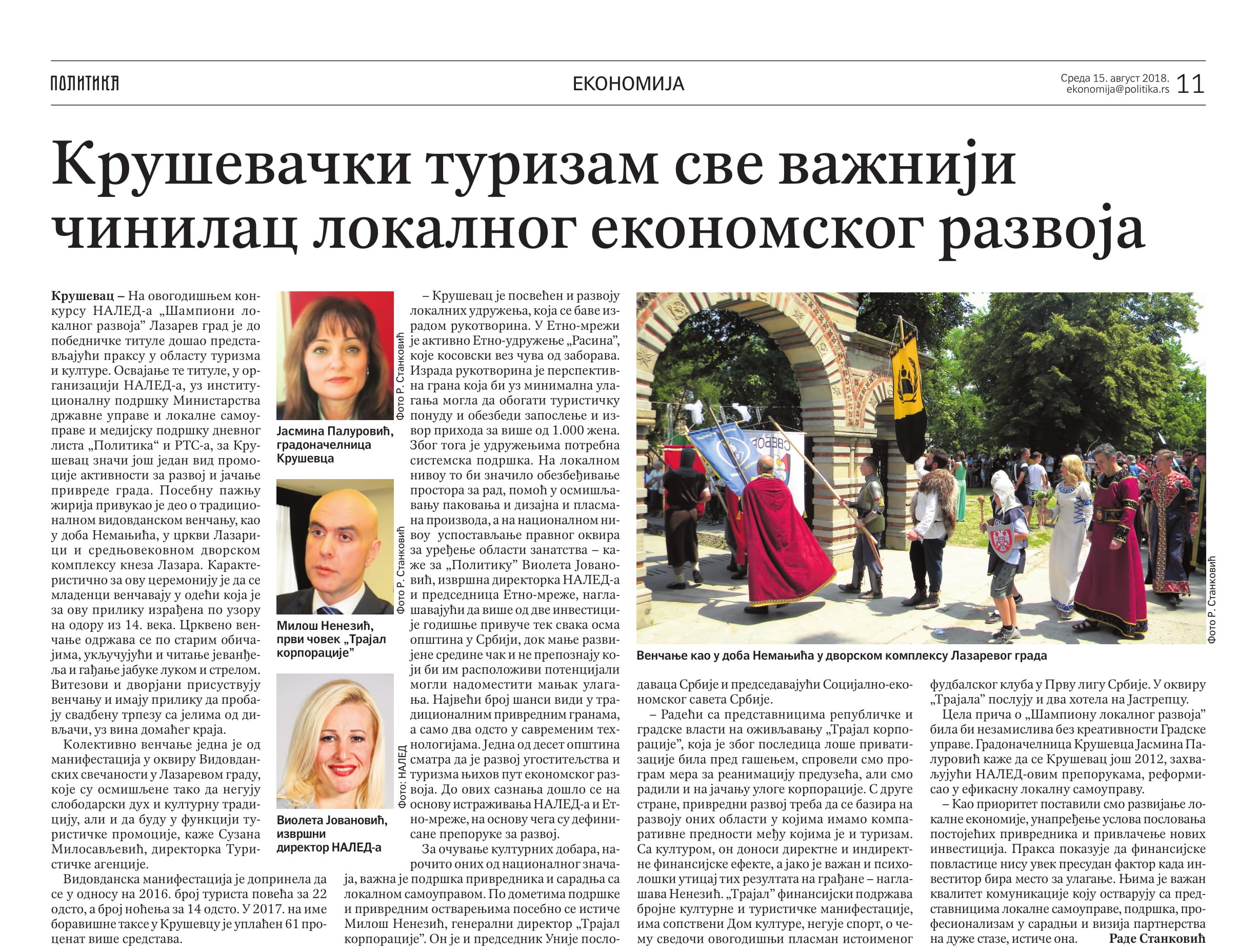 Loznica - From a virtual to a physical visit of Loznica
Ranking: Champion
Population: 79.327
Number of businesses: 3.348
Development level: III group
Score: 99
Contact: www.loznica.rs; dmilutinovic@loznica.rs
Loznica went a step further with new technologies in the presentation of its tourist potential by creating virtual tours of the city. This achievement did not only bring new tourists to Loznica, but also the title of Vice Champion of local development in the field of Promoting tourism and culture
The city of Loznica and its Tourism organization have placed importance on the digital promotion of tourist potential during 2017/18. This approach was assessed as necessary for further communication and provision of requested information to tourists. Apart from creating a new, modernized website with updated information and images, tourists have access to virtual tours that make tourist potential promotion more complete. The purpose of creating virtual tours is to primarily make visitors of this unique 'tour' stay longer on the website, and consequently make them more interested to visit Loznica. The number of followers on Facebook and Instagram, where information on the city's tourist potential is systemically published, has also increased, specifically the number of likes on Facebook posts increasing by 167.4% in 2017 compared to 2016. All of this has resulted in the city of Loznica seeing a rise in tourist visits by 58% in the past three years.
Video on winning solution broadcast on TV Show Ovo je Srbija, RTS