Grey Book
The Grey Book contains 100 most significant recommendations by businesses, local government and civil society organizations for eliminating the administrative obstacles to doing business in Serbia, and it represents one of the key documents used by the state institutions as guidelines in planning and implementing the regulatory reforms.

Since it was first published in 2008, the Grey Book has seen 12 editions and presented 268 recommendations for improving the business environment. Out of this number, 72 have been fully resolved (27%), and 59 partially resolved (22%), meaning that a half of recommendations have reached the policy makers.

In 2020, 13 recommendations were implemented, to a greater or lesser extent, indicating a slightly slower reform tempo, largely due to the coronavirus pandemic. However, excluding the very active reform year of 2019, the result is not any worse than the 12-year average. Only two reforms have been implemented fully and 11 partially, hence a conclusion that institutions need to invest more energy to offer complete rather than partial solutions.
Grey Book 13 symbolically brings 13 entirely new recommendations for the Government of Serbia, while other recommendations have been updated or improved. What makes the new edition of Grey Book stand out from all previous, is that it involves 15 recommendations marked with a "COVID-19 badge", indicating the administrative obstacles whose resolving is highly important for overcoming the challenges faced by businesses and citizens during the pandemic. These recommendations mostly focus on digitalization and improved efficiency of the healthcare system, digitalization of procedures and further development of eGovernment, governing flexible forms of work engagement and work from home, and reducing the tax and para-fiscal burden on businesses.
And this year, there are ten priority recommendations. Recommendations aimed at modernizing the work of the public administration, increasing transparency and reducing costs for taxpayers stand out.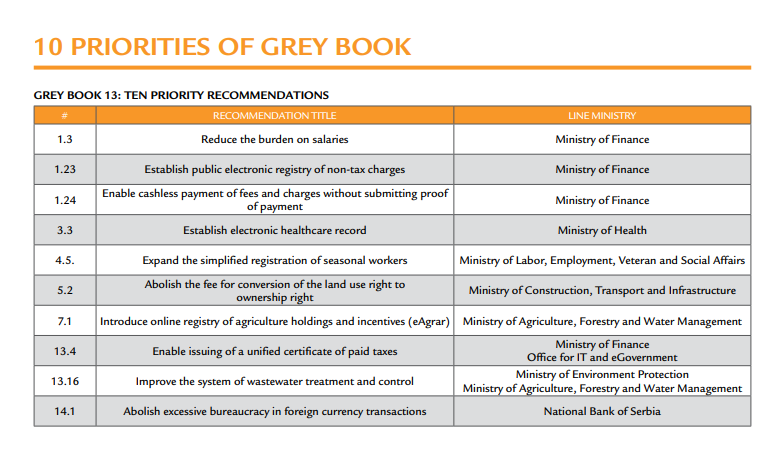 The first steps
The Grey Book came into existence in 2008 as a result of NALED's desire to assemble all segments of society and encourage them to engage and contribute to the common goal – building a better business environment by eliminating redundant and obsolete administrative procedures. No initiative before or after the Grey Book had dealt systematically with the administrative and practical problems faced by businesses on a daily basis, which led to Grey Book being accepted by institutions as a strategic document in planning policy reforms.
Late in May 2008 the public was introduced to the "Out of the Maze" campaign NALED initiated together with USAID and B92 TV station. Citizens and businesses were invited to nominate complicated procedures and propose models of improvement. During June, NALED received as much as 245 justified proposals, 55 of which earned their place in the first issue of the Grey Book. Three citizens were prized for their proposals for improving the procedures of TIN assignment, construction permitting and tax filling.
Key Results
The Grey Book is responsible for elimination of some of the proverbial bureaucratic barriers. Based on NALED's initiative, to name a few examples, the wage tax and benefits are now paid to a single account instead of 12 different accounts, the institutions no longer require that an excerpt from public records is not older than six months, the employment booklets are no longer used, the health insurance card are verified automatically, and the construction permitting procedures have been significantly improved. New businesses obtain a tax identification number (TIN) in BRA in a much easier fashion and if they are micro or small enterprises they are exempted from the signage fee. Pregnant women and new mothers no longer need to collect dozens of different original documents and certified copies to exercise the right to allowance during pregnancy and maternity leave, new employees are now registered electronically via online portal of the central registry and businesses do not need to provide a seal to open a bank account and conduct a payment (Annex I of the Grey Book 10 includes the list of all 89 completely or partially solved recommendations).